Sonderausstellungen
Upcoming and running exhibitions
Ausstellungsbesucher, Museumsprofis und Journalisten finden hier Sonderausstellungen aus ganz Europa. Abgedeckt werden nach ICOM Museen, Ausstellungshallen, Science Centers, Botanische Gärten, Zoos etc Geographisch decken wir die europäische Türkei und Israel zusätzlich ab. Vuele Museen haben leider nicht mehr die Kapazitäten, uns Ihre Ausstellungen mitzuteilen.SQL-Datenbankabfrage sowie oben Abfrage des gesamten Portals mittels Google.

Viel Vergnügen!

Welcome to our exhibition module covering Europe, European Turkey and Israel. According to ICOM we include museums, exhibition halls, science centers, botanical gardens, zoos etc. Due to reduction of personnel, many museums are unable to communicate their exhibitions to us. SQL-query with additional Google search tool for the whole portal. Enjoy!


2 gefunden / found
---
Ägypten - Land der Unsterblichkeit
Von/from: 16.11.2014 Bis/until: 31.12.2022
---
Die Ausstellung "Ägypten - Land der Unsterblichkeit" öffnet dem Besucher die Pforten zur faszinierenden Welt der antiken Hochkultur am Nil. Die bis zu 6000 Jahre alten Exponate stehen im Mittelpunkt einer Schau, die mit eindrucksvollen Inszenierungen und Themenwelten einen kulturhistorischen Überblick in die Alltagswelt im Land der Pharaonen oder in die ganz eigenen Jenseitsvorstellungen gibt. Anhand hochwertiger Originale zeigt die Ausstellung das Leben an den fruchtbaren Ufern des Nils in allen wichtigen Epochen des Alten Ägyptens: von den Anfängen im 4. Jahrtausend v. Chr. bis zur koptischen Zeit im 6. und 7. Jahrhundert n. Chr.
Diverse Mitmachstationen runden die Ausstellung ab und machen sie vor allem auch für Kinder, Familien und Schulklassen zu einem unvergesslichen Erlebnis.

Hinweis: Im Juli und August ist die Ausstellung geschlossen.





Öffnungszeiten / Opening

Di – So, 11 – 18 Uhr,
auch an Feiertagen geöffnet,
außer 24. und 31.12.
Informationen: Tel 0621 – 293 31 50
www.rem-mannheim.de

Veranstalter / Institution

Reiss-Engelhorn-Museen - Museum Weltkulturen D5
Museum Weltkulturen D5
DE 68159 Mannheim


---
Alexander Calder: The Magic of a Sculptural Movement
Von/from: 27.09.2019 Bis/until: 05.01.2020
---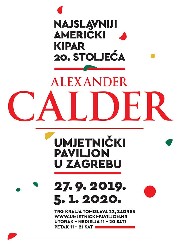 Alexander Calder (1898, Lawnton, Pennsylvania – 1976, New York) is one of the most important of 20th century artists on the world cultural scene

Carrying on with the succeses of the series "Greatest Sculptors of the 20th Century", started in the Art Pavilion in Zagreb in 2014 with the Joan Miró exhibition, continued in 2015 with the exhibition of the French sculptor Auguste Rodin and then with the exhibition of Swiss sculptor Alberto Giacometti, the works of the great American sculptor Alexander Calder will be presented in the exhibition space of the Art Pavilion in 2019.

Calder's oeuvre focuses on kinetic art, that is, on the form of artistic expression in which movement is the main component of the aesthetic of the art object.
Calder came from a family of famous sculptors; his grandfather and father were both sculptors, and Calder got his first lessons from them. He continued his education through private lessons in painting, and later studied art in New York. However, he also enrolled in a mechanical engineering course (which later turned out to be of crucial importance in the innovation of mobile sculptures). As early as the twenties he was doing his first sculptures in wood, and in 1927 his first moving toys were created. In the late twenties he started making his first wire figures, which dominated the early period of his work. In the Paris of the early thirties, Calder got to know Mondrian, Miróm Arp and Duchamp. He joined the Abstraction-Création Group (1931-1936) and started working on his mobiles, sculptures that were set mechanically in motion. Soon appeared his static monumental abstract constructions that he called stabiles. Calder's stabiles are a most important part of the history of kineticism and modern art, since they mark the breaking of the links between kineticism and works moved mechanically.

The exhibition in the Art Pavilion will be focusing on the part of the sculptor's career that he dedicated to stabiles and mobiles: to mobiles, carefully balanced constructions that move partially or completely under the influence of the movement of the air, and the abstract constructions called stabiles. In the Art Pavilion, then, it those works from the mature Calder phase, as it is called, that will be on show, those that give him his global reputation. It is important to point out that Calder's mobiles and stabiles were prize winners at the Venice Biennale in 1952, and today can be seen not only in the best known world and European museums, but also in public spaces throughout the world.

As well as his sculptures, the exhibition will comprehend the painting part of the sculptor's oeuvre, which is most often closely connected with the three-dimensional part of the work. Some fifty paintings will be exhibited.
The exhibition in the Art Pavilion in Zagreb is the first in Croatia and in this part of Europe to present the oeuvre of this globally significant sculptor.

For the exhibition in the Art Pavilion, pictures and sculptures of Alexander Calder will be on loan from the most important European museums, such as: the Pompidou Centre (Paris, France); the Tate Modern (London, UK); the Ludwig Museum (Cologne, Germany); the Louisiana Museum (Denmark); the Maeght Foundation (France); the Peggy Guggenheim Collection (Venice, Italy), and many more besides.

The exhibition is created, the works are selected and the set up will be designed by the director of the Art Pavilion, Jasminka Poklečki Stošić.




Öffnungszeiten / Opening

Tue - Sun 11 - 20
Fri 11 - 21
Last friday of the month 11 - 22

Veranstalter / Institution

Art Pavilion in Zagreb
Trg kralja Tomislava 22
HR 10000 Zagreb


---
« zurück / back
Hier könnte Ihre Werbung stehen?
Fragen Sie uns einfach.
Stay alert!
Hier finden Sie Updates zum Buch "Fälschungserkennung".
Neueste Einträge:
Keine Venus, kein Trinkgefäß - ist der vermisste seltsame Hohlkörper von Aufhausen nichts als ein plumper Fehlbrand?
Kunsthändler verliert Prozess um angebliches Uecker-Bild
Keine Fälschung, sondern ein zweifach geschöntes Original des 16. Jh.
Gefälschte Qumran-Fragmente
Giuliano Ruffini and Pasquale Frongia
Neues zu de Caro oder: Die Bilder trügen - Der Fuchs verliert sein Fell, nicht aber seine Eigenschaften